Odin's Court – Deathanity
7.5/10

By Ian Kaatz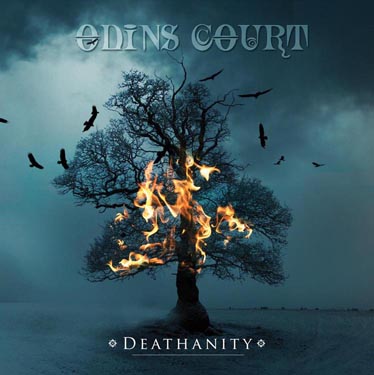 Having been an attendee of ProgPower USA for the last 3 years it was hard not to hear of this band since a couple of the members attend each year. Though I don't think I have ever heard their music until this album arrived.
Odin's Court began in Maryland in 2001 with Matt Brookins. They have released two albums and a DVD, as well as sharing the stage with Kamelot, Symphony X, and Crimson Glory, just to name a few.
The album, Deathanity, begins with a much darker side to the prog world then what I was expecting. There lots of interesting time signatures as well as this "dark mood" that transpires from the music. This "dark mood" is present throughout a good portion of the album, which is something that I am not really familiar with in the Prog genre. Some of the highlights from the album are definitely the two tracks that feature guest appearances "Mammonific" with Tom Englund from Evergrey and "Crownet" with Tony Kakko from Sonata Arctica. Tom shows up in the fifth track and f*cking owns and gives the band a superior guest appearance. The dual vocals are great sounding with the two different tones intermingling. It also didn't come off as just an Odin's Court doing an Evergrey song like how some guest appearances end up being. The robot effect to the vocals was an interesting accent, but maybe could have been done without. "Crownet" features an excellent beginning with a superior guitar line then a quiet proggy break down for a bit, then the bombastic prog/power sound begins to come out with the addition of Tony. The keyboards sound absolutely phenomenal on this particular track.
Other things that I picked up on the album are occasional occurrence of death vocals, which happen in situations you wouldn't expect. I would compare this exact action to what Riverside does in their compositions. The overall back and forth between the quiet artistic prog rock parts to the more aggressive parts will keep any fan of prog involved in the album. Another thing was that there is I believe 3 instrumental tracks on the album so don't expect vocals all the time, but do expect awesome epic music. Finally, a fun little addition that they include is a rendition of "Joy To The World" with "Ode To Joy" that would fit nicely on any Trans-Siberian Orchestra album.
Deathanity could be recommended to fans of Riverside or Evergrey or any other prog-oriented band that incorporates the darker side of the genre into their music. When you pick this up do not expect upbeat European prog metal a la Stratovarius - expect the unexpected.
Only registered users may post a comment.
There are currently no user submitted comments.